Eifers Pty Ltd | NHVR Issues Enforceable Undertaking
Case Study: Estimated value of the undertaking is $44,000.00
Companies are being reminded to take the Mass and on-road safety responsibilities of all heavy vehicles (GVM or GCM > 4.5T)seriously as outlined here in this Alert.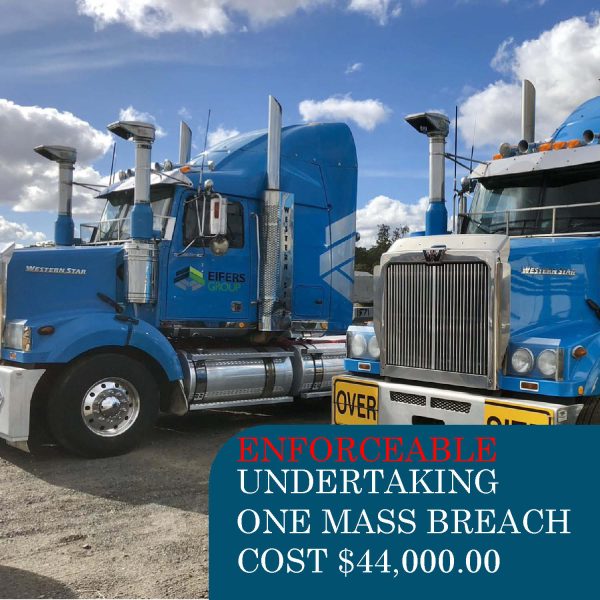 8 September 2021

Background
On the 22 October 2020 at Rosedale, Victoria. A Heavy three-axle low loader vehicle combination, was intercepted by the NHVR.
The statutory axle group limit on the vehicle was 20,000kg, on its tri-axle group, with an actual mass loaded of 28,650kg.
This breach was deemed to be a severe risk breach, due to being loaded at 143.25% of its statutory capacity.
The National Heavy Vehicle Regulator (NHVR) has imposed an enforceable undertaking on Eifers Pty Ltd Construction. 
We can all be quick to judge an organisation by a single action. But the benefits of such an undertaking by the NHVR give the industry a sobering reminder of their obligations, without criminal prosecution. It also affords the body corporate at the centre of the attention, the ability to improve and carry on trading, critical to the jobs and security of its broader workforce.
Unfortunately in this instance, the roadside enforcement officers also detected unsafe load restraint on the excavator, which was being transported at the time. This also added to the outcome required by the National Heavy Vehicle Regulator. The regulator agreed to the following proposal by Eifers;
The purchase and delivery of training awareness courses to all employees involved in loading heavy vehicles, ensuring an improvement within the business with its load restrain and mass loading requirements, from all stakeholders deemed loading manager and loader duty holders;
Issuing of a directive for all employees to view the 'Effective Load Restraint' webinar provided by Safe Work Australia;
To ensure a review of loading and mass procedures and the implementation of a written policy and procedure manual for workers to use when loading heavy vehicles and the workers' chain of responsibility requirements, which Eifers will direct employees to read and be bound by; 
A commitment by Eifers to continue ISO9001, ISO45001 and ISO14001 certification; and
The procurement of a promotional video to promote Heavy Vehicle Road Safety and the Australian Road Safety Foundation's 'Take the Pledge' program, which is to be placed on a prominent place on the Eifer's website and promoted to all workers
What does this mean?
Over the many years of operation at MAEZ we are continually staggered to find a lack of Mass control at varying types of business. What is interesting is that businesses that drive revenue from Mass related products, for example, Iron Ore, tend to be very specific with its Mass control, where others are not. Further to this, MAEZ acknowledged another undertaking by the NHVR in 2020, from a similar breach in the same industry by Laing O'Rourke which you can – Read Here. Those same learnings and opportunities were missed by Eifers on this occassion.
The legislation is very clear that the Heavy Vehicle National Law sets out to protect the general public and public infrastructure. Should an incident like this, cause an accident or worse death on our public roads, the penalties would be significantly worse and jail time can be applied. The implications though, for senior executives are harrowing as an accessorial liability could be applied and criminal action can be undertaken for an event that occurs on a public road, against the executive sitting behind a desk at the time of the incident. 
If you have a supply chain with a transport task operating within it, you have a direct responsibility to ensure the safety of your entire supply chain, you cannot sub-contract out or remove by way of a process the risk.
It is now illegal in most states to insure against Chain of Responsibility outcomes that may cost a business a hard-earned Ebit result.  Our registered code of industry practise audit program is very popular and a cost-effective way to mitigate your risks in your Supply Chain, especially against a cost that was enforced on this body corporate. It is not up to your transport operator to mitigate your risks, which MAEZ consultants are often confronted with. Education in your supply chains is critical to raise awareness and confront change that requires improved safety standards.
We've got the answers...
Call your Chain of Responsibility Partner now!